Made with natural and organic ingredients, Blue Bear Sleep is here to help support a full night's rest with a guilt-free, perfectly sweet peach taste. Our functional sleep drink makes it easier to enjoy your nightly routine of unwinding your mind & body for a healthy, restful sleep.
---
Chamomile Extract (Flower)
Ashwagandha Root Extract (Root)
Lavender Extract (Aerial)
GABA (Gamma-Aminobutyric Acid)
Ingredients: Filtered Water, Organic Erythritol, Organic White Tea Flavor, Natural Peach Flavor, Organic White Tea Extract, Monkfruit Juice Concentrate, GABA (Gamma-Aminobutyric Acid), L-Theanine, L-Malic Acid, Citric Acid, Lavender Extract, Chamomile Extract, Ashwagandha Root Extract, Melatonin
🌙 Non-carbonated white tea base



🌙 Made with organic white tea and natural flavors

🌙 Vegan, Gluten Free, Non-GMO, Zero Sugar, Zero Caffeine, No Preservatives, Keto Friendly, Kosher, Fair Trade Tea, FDA Compliant
Many people drink melatonin tea for its benefits in encouraging a healthy sleep cycle. Melatonin is a hormone that naturally occurs in our bodies to support our circadian rhythms. If your sleep has been all over the place lately, bring it back to a routine with this natural sleep drink. The lavender and other botanical components in our functional sleep drink provide both all-natural relaxation and a pleasant herbal taste.
Blue Bear's sleep aid drink is vegan, gluten-free, and contains no sugar, caffeine, or preservatives. Sip on this functional sleep drink before bed, and you'll be well on your way to an all-natural night's sleep.
Enjoy 30 minutes before going to sleep.

Best served chilled.

Shake well before opening.

Please Note

: This product may cause drowsiness.

Do not drive, operate machinery, or perform important tasks when taking this product.

Not recommended for use by individuals under 18 years of age. Consult with a physician prior to use if you are pregnant or nursing, or taking any medications. It is not recommended to drink more than one serving in a 24 hour period.
*This statement has not been evaluated by the Food and Drug Administration. This product is not intended to diagnose, treat, cure, or prevent any disease.
HELPS SUPPORT A HEALTHY SLEEP CYCLE*
The Perfect Blend for
Natural Sleep Support.
Found in many teas this naturally caffeine-free herbal infusion helps ease mild tension & reduce anxiety*
A nootropic that encourages calmness & relaxation*
A naturally occurring amino acid that reduces activity in the central nervous system*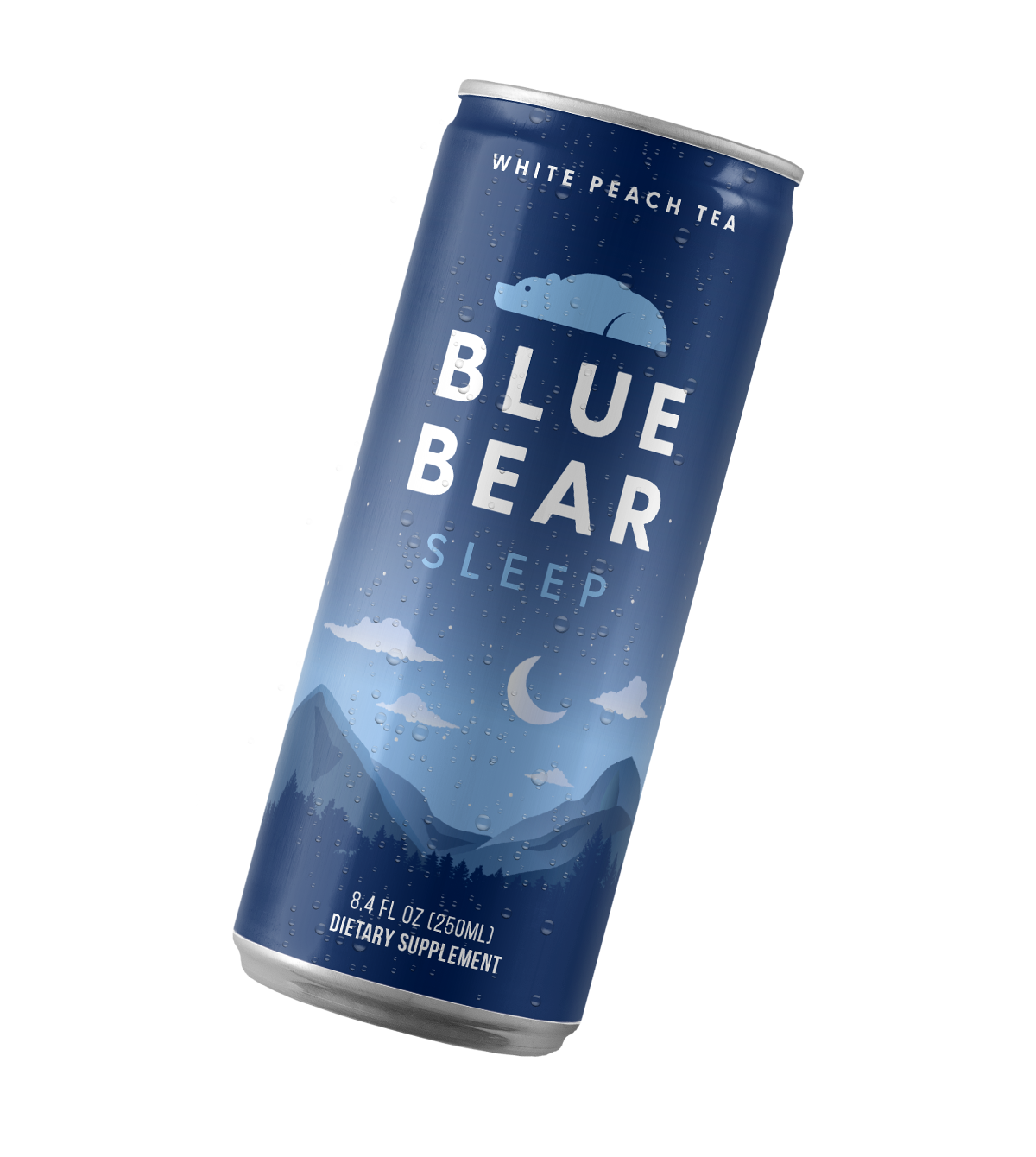 A flowering plant used for restlessness & nervousness by affecting the brain through smell*
An ancient medicinal herb that reduces cortisol levels and boosts overall wellness*
A naturally occurring hormone that works with your body to promote healthy sleep cycles*

"If Blue Bear thinks they can win my brand loyalty with a sleep tea in a can full of organic ingredients, they're 100% right."
"I have a Blue Bear sleep every night before I go to bed"
"I got Blue Bear for my dad because he has sleep apnea and it really helped him."
We made it easy for you. A new 30-night pack containing 32 Blue Bear Sleep cans will be delivered to you every month so you don't ever have to compromise your sleep schedule.
* This statement has not been evaluated by the Food and Drug Administration.
This product is not intended to diagnose, treat, cure, or prevent any disease.
* This statement has not been evaluated by the Food and Drug Administration.
This product is not intended to diagnose, treat, cure, or prevent any disease